Need to make blood cells? A dream of grandiose landscapes? A need for culture shock?
This "running" program in Ladakh and Zanskar is adapted to the most sporty people, with longer stages and logistics adapted to the trail-running.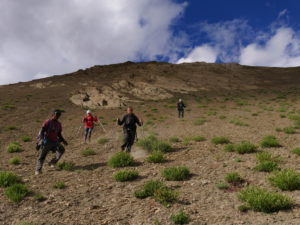 The program is "progressive" to adapt to the requirements of the altitude:
– A gentle acclimatisation around Leh (2 days)
– A small trek to warm up (2 days)
– The crossing of the Zanskar (the program below is modular, contact us for more details)
Day 1: Arrival in Leh, acclimatization, rest.
Day 2: acclimatization, hiking-city to discover Leh
A small urban hike in Leh, gently undulating… at 3500 meters and only D+1 day, the 300 steps of the Shanti Stupa or the climbs to the castle of Leh and the monastery take a very particular relief…
Day 3: End of acclimatization and cultural visits around Leh.
Let's discover some villages and monasteries around Leh! And depending on the acclimatisation of each one, a short hike in the Indus Valley.
Day 4: transfer by car, 10km, 400m from D+
1h30 drive, visit the monastery of Likir, then we start gently with the first 10 kilometers that take us to the village of Yangthang.
Day 5: 22km, 550m of D+
3 small passes on the program of this long stage, with the crossing of superb landscapes and the pretty village of Hemis Shukpachen. Arrival in Temisgam after a long rolling descent.
Day 6: 10km, 300m of D+. Then transfer by car.
Transition stage to Khaltze, before taking back the car that takes us to Photoksar, the gateway to Zanskar.
Day 7: 20km, 1100m from D+
It's a difficult stage. Grandiose landscapes… Passage from a pass to 5000 meters!
D 8: 12km, 400m of D+
A transitional stage, to enjoy the village of Lingshed, far from everything and out of time.
D 9: 22km, 1200m from D+
Early morning departure for the best stage! Grandiose landscapes and incredible trails clinging to the mountains!
D 10 : 26km, 800m of D+
(possibility divide this stage into 2 days)
After a very steep pass, a long journey suspended on small trails above Zanskar!
D 11: Night at the local people's house. day off and experience traditional life in Zanskar. Mini trek (almost flat…) to Zangla Palace.
Day 12: Transfer by car to Darcha and Padum (1 hour). Visit of Padum and the monastery of Darcha. Overnight in guest house (and small shower possible!)
Days 13 and 14: return to Leh
Incredible roads ! Epic crossing on the side of giant glaciers… Night in a nunnery, a "rustic", spiritual and exceptional experience!
Day 15: Leh
Free day in Leh
Day 16: return to Delhi
Other possibilities:


– D+7, possibility to leave from Kanji and join Photoksar in 2 additional stages.
– or possibility to go directly to Zanskar without the Sham Valley part.
Optional once you arrive in Pichu:


– Possibility according to the height of the rivers to continue the trek to the monastery of Phuktal from Pishu in 4 stages. About 2500m of D+ (1st stage 1500m)
OR
– 2 days of trekking in round trip, with night near the monastery of Phuktal. (600 meters of D+ each day)
Nights in guest-house or hotel in Leh (breakfast included; lunch and dinner not included).
To maintain friendliness, we offer these programs for a maximum of 8 persons.
Nights in tents or with locals during the trek. Overnight in a nunnery on Padum's return. All meals, water and tea are included during the trek (other drinks not included).
All transfers are made by private vehicle (taxi around Leh, 4*4 for more remote regions).
It is also possible to adapt a trail program in Changtang.